Parties and elections
Main articles: Politics of the United States and Political ideologies in the United States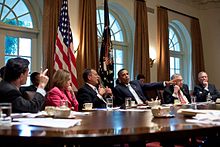 (From left to right) House Majority Leader Eric Cantor, House Minority Leader Nancy Pelosi, House SpeakerJohn Boehner, President Barack Obama, Senate Majority Leader Harry Reid, and Senate Minority Leader Mitch McConnell at the White House in 2011
The United States has operated under a two-party system for most of its history.[274] For elective offices at most levels, state-administered primary elections choose the major partynominees for subsequent general elections. Since the general election of 1856, the major parties have been the Democratic Party, founded in 1824, and the Republican Party, founded in 1854. Since the Civil War, only one third-party presidential candidate—former president Theodore Roosevelt, running as a Progressive in 1912—has won as much as 20% of the popular vote. The third-largest political party is the Libertarian Party. The President and Vice-president are elected through the Electoral College system.[275]
Within American political culture, the Republican Party is considered center-right or conservative and the Democratic Party is considered center-left or liberal.[276] The states of theNortheast and West Coast and some of the Great Lakes states, known as "blue states", are relatively liberal. The "red states" of the South and parts of the Great Plains and Rocky Mountains are relatively conservative.
The winner of the 2008 and 2012 presidential elections, Democrat Barack Obama, is the 44th, and current, U.S. president.
In the 114th United States Congress, both the House of Representatives and the Senate are controlled by the Republican Party. The Senate currently consists of 54 Republicans, and 44 Democrats with two independents who caucus with the Democrats; the House consists of 246 Republicans and 188 Democrats, with one vacancy.[277] In state governorships, there are 31 Republicans, 18 Democrats and one independent.[278] Among the DC mayor and the 5 territorial governors, there are 2 Republicans, 2 Democrats (one is also in the PPD), and 2 Independents.[279]
Since the founding of the United States until the 2000s, the country's governance has been primarily dominated by White Anglo-Saxon Protestants (WASPs). However, the situation has changed recently and of the top 17 positions (four national candidates of the two major party in the 2012 presidential election, four leaders in 112th United States Congress, and nine Supreme Court Justices) there is only one WASP.[280][281][282]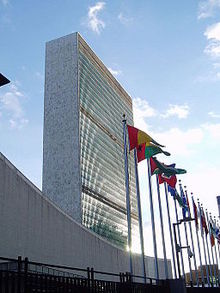 The United Nations Headquartershas been situated in Midtown Manhattan since 1952.
---
Рекомендуемые страницы: