EU JEP CATCH PROJECT
SECOND PILOTING
AUTUMN 2008
Module I
General English for University and Professional Purposes I
Student's script
for internal use only
Producers:
Svetlana Konyaeva
Marina Berezina
Elena Teleshova
Leader:
Svetlana Konyaeva
Contents
Unit I. 3
EDUCATION SYSTEM IN RUSSIA AND ENGLISH SPEAKING COUNTRIES. 3
SELF- STUDY MATERIALS FOR UNIT I. 29
Unit II. 47
COUNTRIES AND CITIES. 47
SELF-STUDY MATERIALS FOR UNIT II. 67
Unit III. 70
SCIENTISTS. 70
SELF-STUDY MATERIALS FOR UNIT III. 98
Unit IV.. 112
COMPUTER.. 112
SELF-STUDY MATERIALS FOR UNIT IV.. 128
Unit V.. 135
CAREER PROSPECTS. 135
SELF-STUDY MATERIALS FOR UNIT V.. 156
Unit I
EDUCATION SYSTEM IN RUSSIA AND ENGLISH SPEAKING COUNTRIES
Lesson 1
LEAD-IN
a. Now you are first-year students. You passed your entrance exams thanks to the knowledge you gained at school. Say a few words about:
1) the type of school you studied at;
2) compulsory and optional courses there were at your school (chemistry, drawing, history, geography, etc.);
3) how many times a week you had your lessons of English;
4) your favourite subjects;
5) the entrance exams you passed before entering the university.
b. Work in pairs. Match the questions in A with their answers in B:
| | |
| --- | --- |
| A | B |
| I. What faculty are you in? | I'm a student. |
| 2. How old are you? | I study at the State Technical University. |
| 3. What are you? | I'm good at maths and poor at chemistry. |
| 4. What's your name? | I'm seventeen. |
| 5. Where do you study? | My name is........... |
| 6. What year are you in? | I'm in the (civil engineering) faculty. |
| 7. What are you going to become (to be)? | I'm a first-year student (a fresher, in my first year). |
| 8. What subjects are you good/poor at? | Yes, I do. I'm getting on well at the University. |
| 9. Do you get a grant (scholarship)? | I'm going to become a (civil engineer). |
| 10. What subjects are taught at the University? | Well, it depends on the faculty and the year. |
ACTIVE VOCABULARY
Give synonyms or close meanings of the following words and word combinations and try to pronounce them correctly:
Secondary school, private school, natural sciences, higher education, total number, multitude, to enter, entrance exams, non-government, applicants, graduates, employers, links, fee-paying form, compulsory, optional.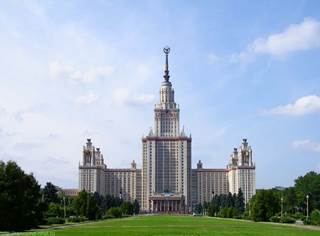 Look at the photo and discuss these questions:
- What building is it?
- Where is it situated?
- When was it founded?
- Who was the founder of it?
Find out more: http://www.msu.ru/en
READING TEXT
Read the following text and try to understand it:
EDUCATION IN RUSSIA
At present, there are different kinds of secondary educational institutions, including lyceums and gymnasiums in Russia:
1. An ordinary secondary school, which reproduces the pattern of the Soviet period, with the program now extended to 11 years.
2. A gymnasium, which provides a higher standard of training in the humanities.
3. A lyceum, which gives deep knowledge in the natural sciences and technology.
4. Private schools, which comprise 1% of the total number of secondary schools. But studying there is very expensive, and very few can afford it.
The present education in Russia, including, higher education, is free. But now there is a multitude of non-government universities.
It is much easier to enter a private university than a free (government) university, because the requirements of the entrance examinations are much lower and the competition is not so stiff (not everybody can afford to pay for education), but also because free government universities have long-standing traditions, including a system of training specialists and experienced teachers. So the competition among the entrants is very tough, particularly at prestigious universities; and the successful passing of the entrance exams takes long and careful preparation.
In spite of the economic difficulties Russia is going through, the number of universities and students in the country is going up. The competition increases every year, especially in the fields of medicine, law, finance, and economics. There are also many applicants to the departments of modern technology and general theoretical training.
After graduation from an Institution of Higher Education young people can find jobs through their parents and friends; and sometimes a "Career Day" is organized, where future graduates and representatives of companies — potential employers — meet. At such meetings, useful links are established, and interviews are given. Now, students often begin to work at outside jobs during their second or third year of study; and by the time they graduate, they have already become experienced specialists.
N. Tokareva, Moscow, 2005
READING COMPREHENSION
I. Fill in the blanks with suitable words.
- Free education in Russia is the most common; there also exist .............. schools and universities which charge tuition fees.
- Gymnasium is a kind of secondary school which concentrates mainly on ..................
- The competition for entering universities is very ..........
II. Match the words and their definitions given below: